Frequently Asked Questions
How can I buy an aluminium herb grinder online?
If you're looking for a long-lasting, high-quality, aluminium herb grinder that you can buy online, look no further than our CAPU website. We have a myriad of excellent grinders for you to choose from including those made with 100% aluminium.
Simply browse to our SHOP page, choose any Frequent Flyer or Black Out Edition grinder, add it to your basket, and check out.
And we'll bring your grinder right to your door.
We ship internationally, but there is a standard shipping fee of €15.00 if you purchase your aluminium herb grinder outside of the EU. If you live in the EU, shipping is free.
What's in the package when I order an aluminium herb grinder online from CAPU?
When you purchase any Frequent Flyer Edition grinder, you will receive 1 Frequent Flyer Edition Grinder with a pouch, one small teeth set, a large teeth set, a cleaning set (Brush and Tweezer) with pouch, a black Storage Box, and an information card.
When you purchase the Blacked Out Edition, you will receive one Blacked Out Edition Grinder, one vegan leather storage box, one tiny blade set, one big blade set, and one cleaning set (Brush, Tweezer).
Both editions feature grinders with bodies made with anodized, aircraft-grade, recyclable aluminium. Their components attach via rare-earth neodymium magnets and their blades are made of durable stainless steel.
Does your herb grinder store offer free shipping?
Free shipping is available for orders from Germany, Austria, Switzerland, and other EU countries.
So, if you live in the European Union and need an aluminium herb grinder, you don't have to leave your house. Simply place a purchase through our website, and we'll ship your grinder to you for free.
For places outside of the EU, we charge a €15.00 shipping fee.
How long does it take for my order to ship?
After you complete your order, it is processed and shipped the following business day.
Ordinary mail orders to domestic addresses may take 3-5 business days to arrive. Orders placed outside of the EU may take 7-14 days to arrive.
Please keep in mind that delays may arise due to customs in your country.
But no matter where you are if you want to improve your elevating experience, you may get an aluminium grinder from our online herb grinder store.
What is anodized aircraft-grade, recyclable aluminium?
Anodizing is a type of electrolytic passivation that is used to thicken the natural oxide coating on the surface of metal objects like aluminium grinders.
Anodizing improves the corrosion and wear resistance of your aluminium grinder and gives better adherence for paint primers and glues than bare metal.
So if you need a tool that will never let you down and last you many elevations, get only the best aluminium herb grinder from CAPU.
Do you have refund and warranty policies?
Any damage to the items that occurs during shipment from our location to yours is covered by our reimbursement. Furthermore, the grinder, leather case, and cleaning supplies are all returnable.
Our refund policy is valid for 30 days following the date of purchase. We are unable to issue a refund or exchange if the 30-day period has lapsed since your purchase.
In order for us to offer you a refund, you must demonstrate that the item is unused and in the same condition as when you received it.
We also offer a lifetime warranty on our grinders.
The lifetime warranty is only applicable if the grinder has been used only for the purpose of processing herb or tobacco products.
We reserve the right to thoroughly inspect the grinder and, if necessary, refuse the warranty.
If your grinder does not function as intended, you may return it to us for a full refund once it has been received.
All grinders are covered by a lifetime warranty, except for the Hash Slicer and the vegan leather case and packing. All other items are covered by a two-year warranty.
To process the refund, we'll need the invoice or a confirmation of purchase. 
The Refund Policy and Lifetime Warranty do not cover abusive use of the products, accidental falls or drops, degradation due to a lack of adequate cleaning, regular wear and tear scratches from usage, or damages caused by cleaning with the incorrect tools.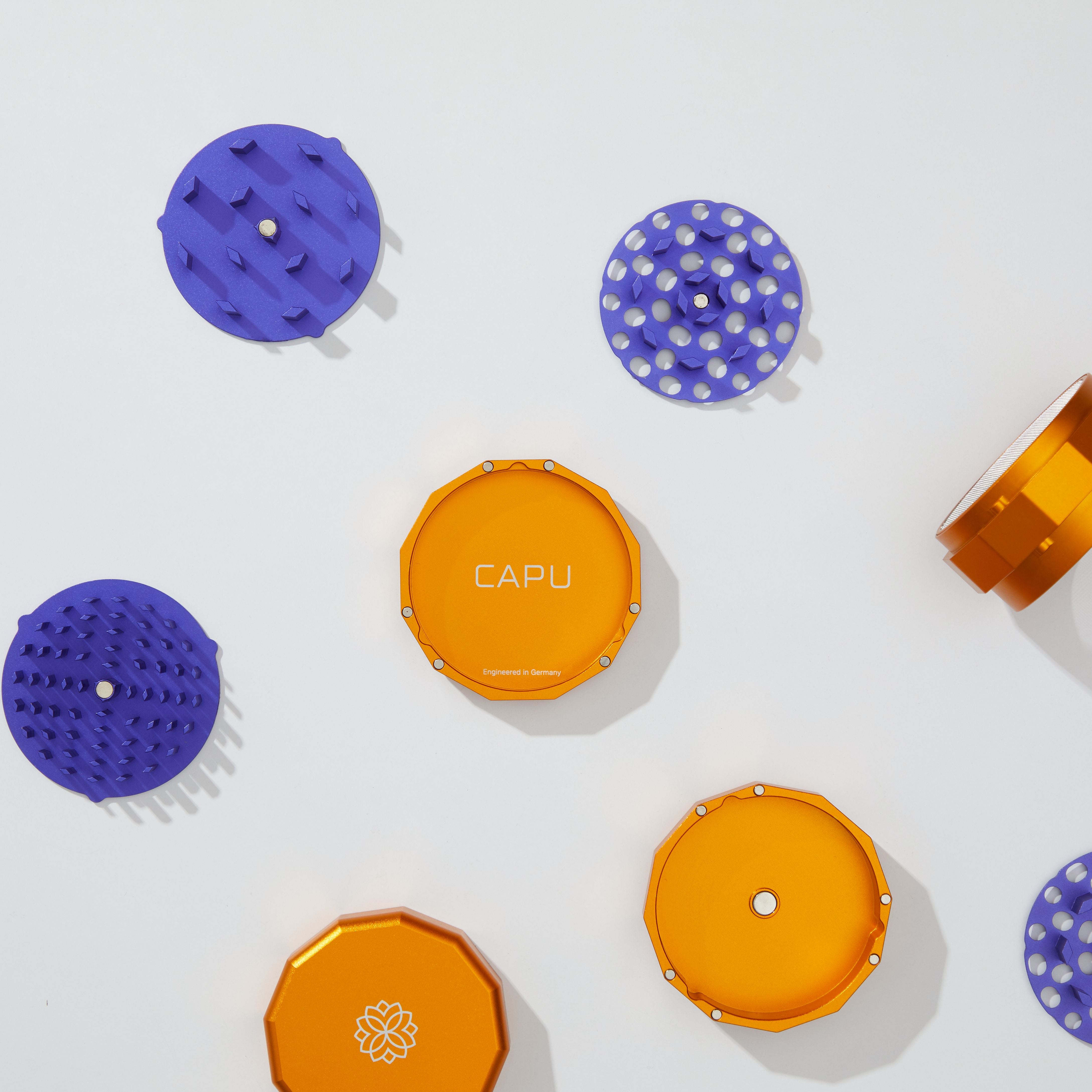 Elevate Better, Easier
With the Best Aluminium Herb Grinder
CAPU Grinders will improve the way you enjoy and handle your herb while also streamlining your preparation. If you want to buy the best aluminium herb grinder, CAPU has the greatest options for you. We have the best aesthetics and functionality for upgraded elevation.
Grind your herb with no mess or hassle
Elevate anywhere, anytime with a portable tool
Choose a colour that complements your personality
Use a tool that will last and will never let you down
Grinding Made Simple and Easy
Grind your herb fast, efficient, and clean - no more delayed elevation or messy wastage. Make it easy for you to get a consistently fine grind with any of our high-quality aluminium herb grinders.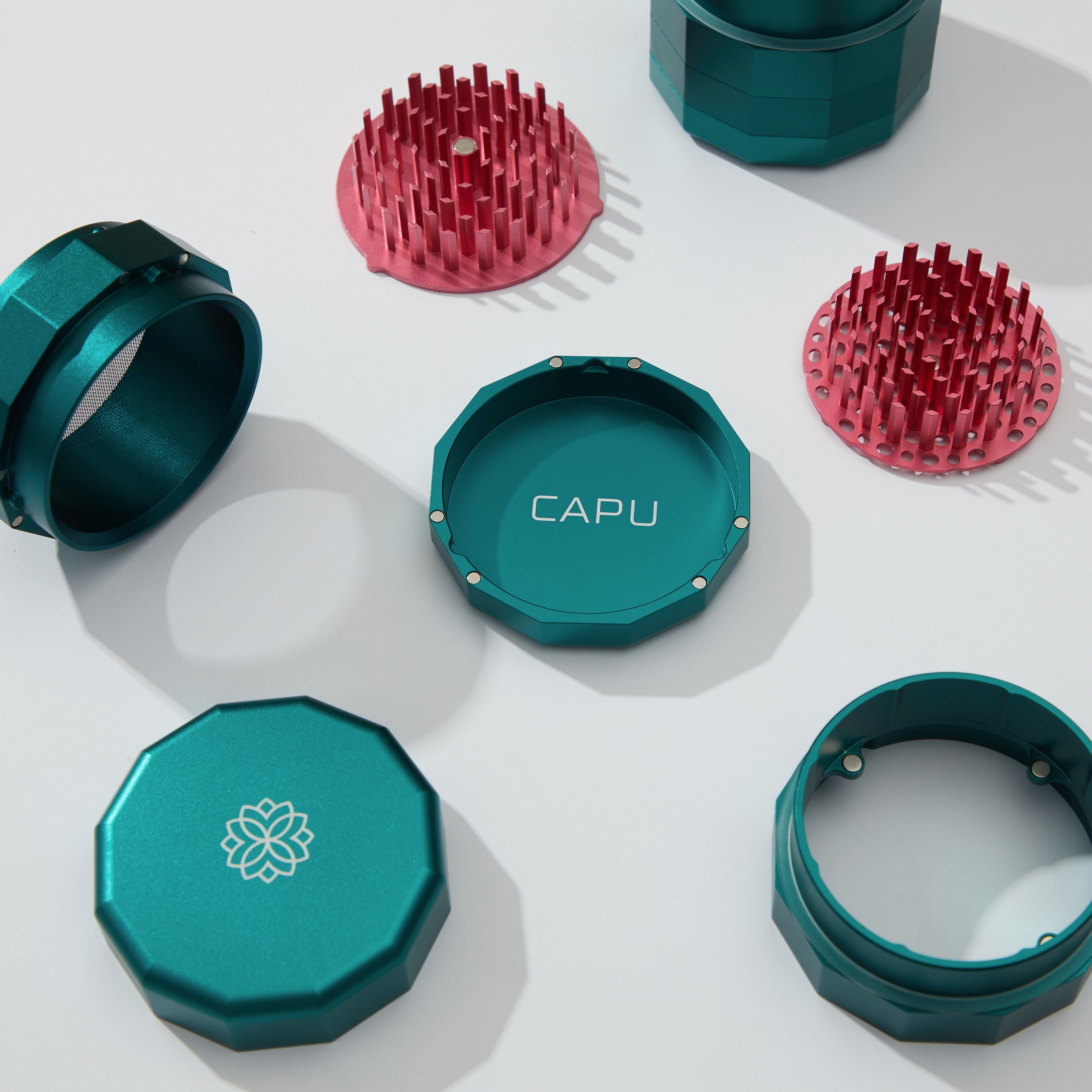 Elevate Anywhere With a Reliable Tool
You'll need a herb grinder that you can take with you everywhere you go. With our aluminium grinders, you have a tool that's portable and easy to transport and fits in with the rest of your gear.
Make it Your Own
Our aluminium herb grinders come in many colours and feels. So, whether you prefer things to be sleek and compact, minimalist, or eye-catching, we have the best herb grinder to complement your personality.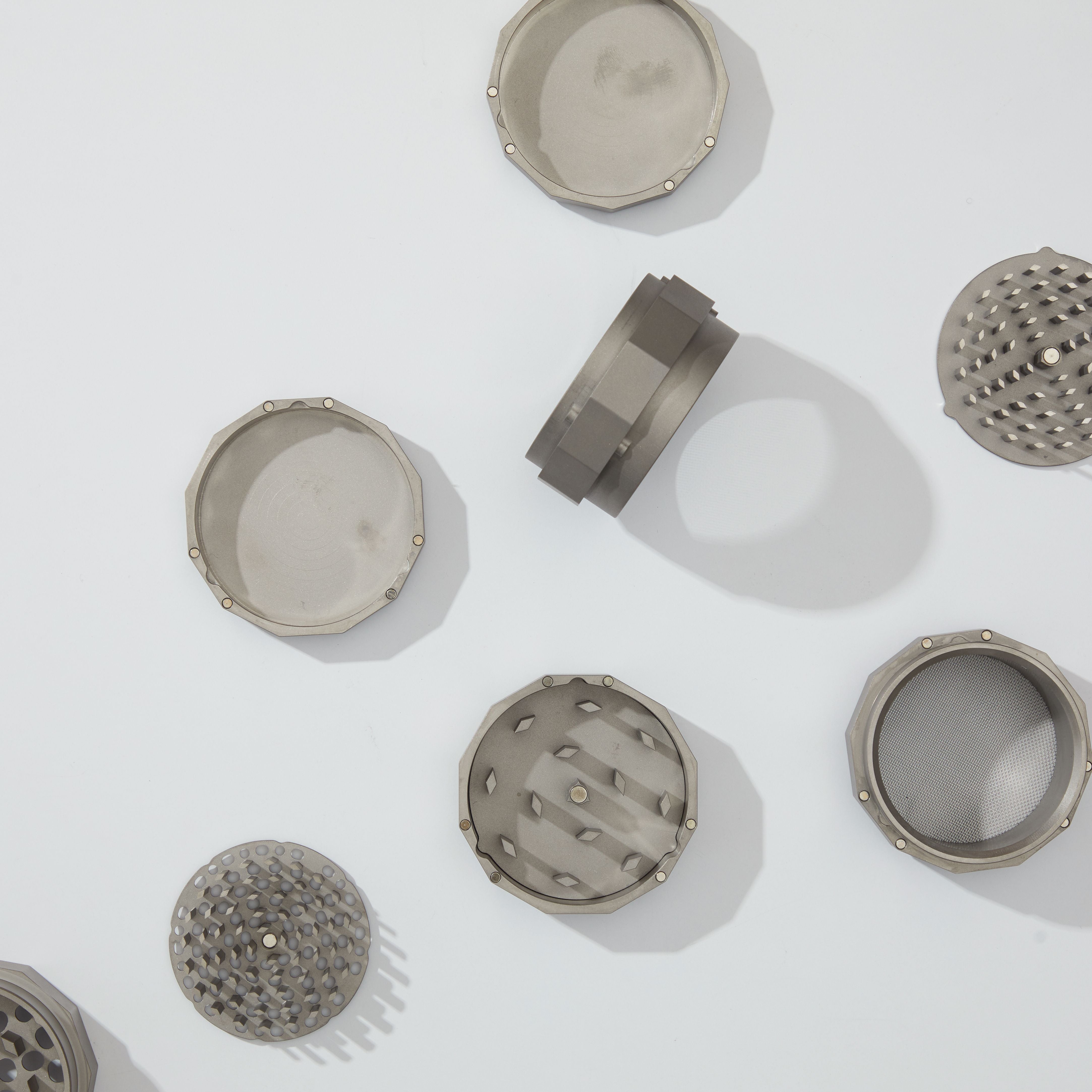 Get a Grinder That Endures
Elevating on the regular means that you need a reliable tool to grind your herb. So get our CAPU aluminium grinders made of anodized, aircraft-grade, recyclable material built to last.
Choosing a selection results in a full page refresh.
Press the space key then arrow keys to make a selection.