Elevate More Conveniently,
With the Best Metal Herb Grinder
Upgrade your herb time and make it more convenient to prep for elevation. CAPU offers the best metal herb grinder that does everything for you.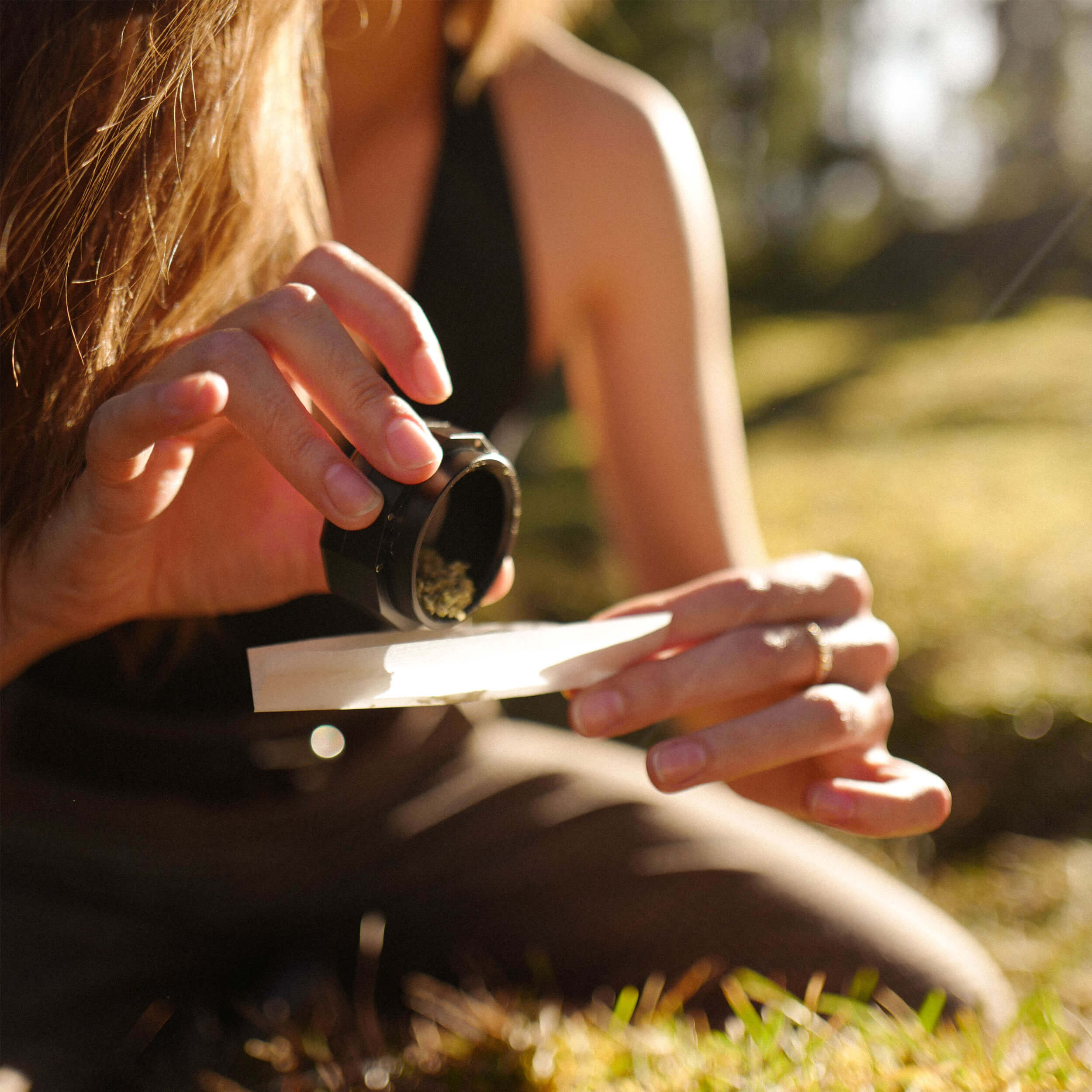 Prepare Your Weed
With Ease & Efficiency
Our cannabis grinders are designed to provide consistently clean herb preparation. They are simple to use, with a 12-sided polygon design for improved grip and functionality. It is complete with four neodymium magnet-attached components including a cannabis storage container.
Fast Shipping
We ship fast, anywhere.
Lifetime Warranty
Top-quality guaranteed.
Heavy-Duty
Aircraft-grade material.
Secure Checkout
Discrete, safe, and fast.
Dependable & Efficient
Dependable & Efficient
Metal Marijuana Grinder
If you enjoy marijuana frequently, you'll need a portable, easy-to-use metal grinder set. Our high-quality CAPU grinders come with high-quality travel pouches and cases, two sets of teeth, and a cleaning kit - everything you need to prepare cannabis quickly and easily every time.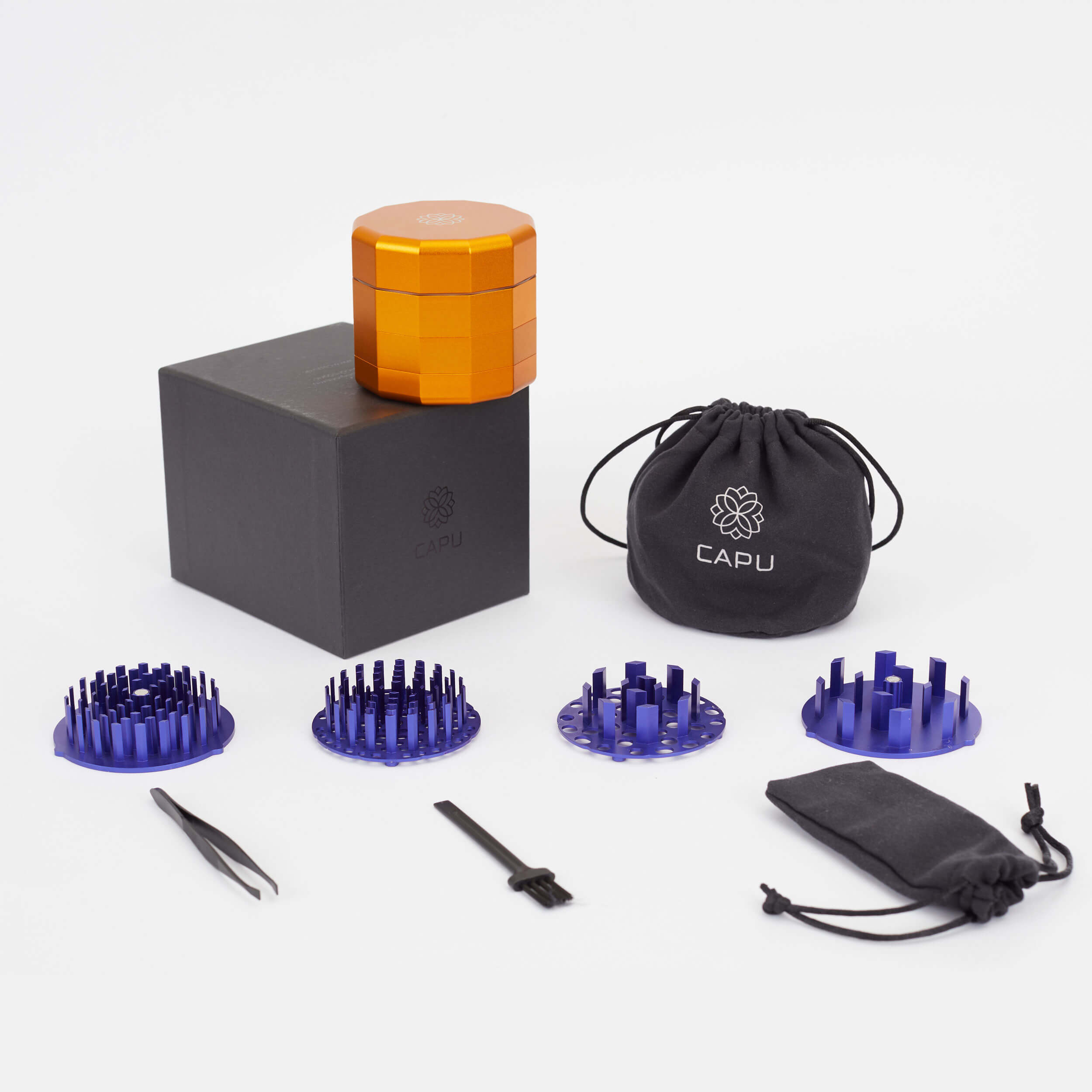 Frequently Asked Questions
What are the components of your marijuana grinder?
CAPU offers a revolutionary high-end cannabis grinder with two replaceable sets of teeth, one large and one small.
The large tooth set produces a regular grind, whereas the smaller tooth set produces a finer grind. Depending on the set of teeth you use, all of our premium weed grinders may produce a fine or extra-fine cannabis grind.
Because CAPU grinders are portable, you can grind your herb to any consistency you want and use it as you see appropriate. So, whether you use a pipe, rolling paper, a bong, edibles, or another method, you can always get the desired consistency.
Our herb grinder is made up of modular components including a sifter, catcher, and cover that can all be simply disassembled and reattached using neodymium magnets.
Our marijuana grinders also come with a portable container to keep your herbs safe. The Blacked Out Edition grinder has a capacity of 3.2 grams of herb, while the Frequent Flyer and Titanium grinders have a capacity of 6 grams.
How much are your weed grinders?
The Frequent Flyer Edition and Blacked Out Edition cost $120, while the Titanium Edition costs $680. The CAPU Hash Slicer, on the other hand, is competitively priced at $60.
When you buy a CAPU cannabis grinder, it comes with everything you need.
When you purchase a grinder from us, you will receive carrying bags as well as a cannabis grinder cleaning kit (1 tweezer and 1 brush). There are also two sets of grinding teeth supplied, one large set for fine grinding and one small set for ultra-fine grinding.
The Frequent Flyer and Titanium Edition grinders come with a grinder pouch, two sets of teeth, a cleaning set, a black storage box, and an information card.
For the Blacked Out Edition the pouches are replaced by a premium vegan leather storage box that holds the full grinder set.
Do you sell a big metal weed grinder?
We only sell medium-sized grinders which are compact and portable so that you can bring them anywhere and even use them to store your herb.
Our Frequent Flyer and Titanium Edition grinders are also medium-sized, measuring 70mm in diameter and 64mm tall. They have a load capacity of 2g and a herb storage capacity of 6g.
Our Blacked Out Edition grinder, is 57mm tall and 66mm in diameter. It features a 1.6g load capacity and a 3.2g herb storage capacity.
What is your metal marijuana grinder made with?
The core components and teeth of our Frequent Flyer Edition Grinder and Blacked Out Edition Grinder are made of anodized, aircraft-grade, recyclable aluminium.
The hash slicer is constructed from the same material as the grinders but contains stainless steel blades.
Our grinders' components are kept together by rare-earth neodymium magnets. As a result, the grinder modules are simple to detach and reassemble while maintaining an excellent seal.
The Titanium Edition Grinder is entirely constructed of titanium. Rare-earth neodymium magnets secure its components together as well.
Is delivery for free?
We only provide free delivery for locations inside the EU. Orders from Germany, Austria, Switzerland, and the rest of the European Union qualify for free shipping.
Thus, if you live in the European Union and need a cannabis flower fine herb grinder, you won't have to leave your house. Simply place your order on our website, and we will ship your grinder to you free of charge.
For orders dispatched outside of the EU, we charge a €15.00 shipping cost.
Is a warranty or a refund available for returned items?
Any damage to the merchandise that occurs during transit is covered by our refund policy.
Our refund policy is in effect for 30 days following the date of purchase. There are no extensions available.
To be eligible for a refund, you must be able to demonstrate that the item was unopened and in the same condition in which it was received. To execute the refund, we will also require the invoice or purchase confirmation.
Our grinders are covered by a lifetime warranty.
The lifetime warranty is only applicable if the grinder has been used exclusively to process herb or tobacco products.
We reserve the right to properly inspect the grinder and, if necessary, to refuse the warranty.
If your grinder does not function properly, you may return it to us for a full refund once it has been received.
All grinders, with the exception of the Hash Slicer and the vegan leather box and wrapping, come with a lifetime warranty. All other items are covered by a two-year warranty.
The CAPU Refund Policy and Lifetime Warranty do not cover product abuse, accidental falls, or drops. They also do not cover damage from improper cleaning, regular wear and tear from use or harm from cleaning with the wrong instruments.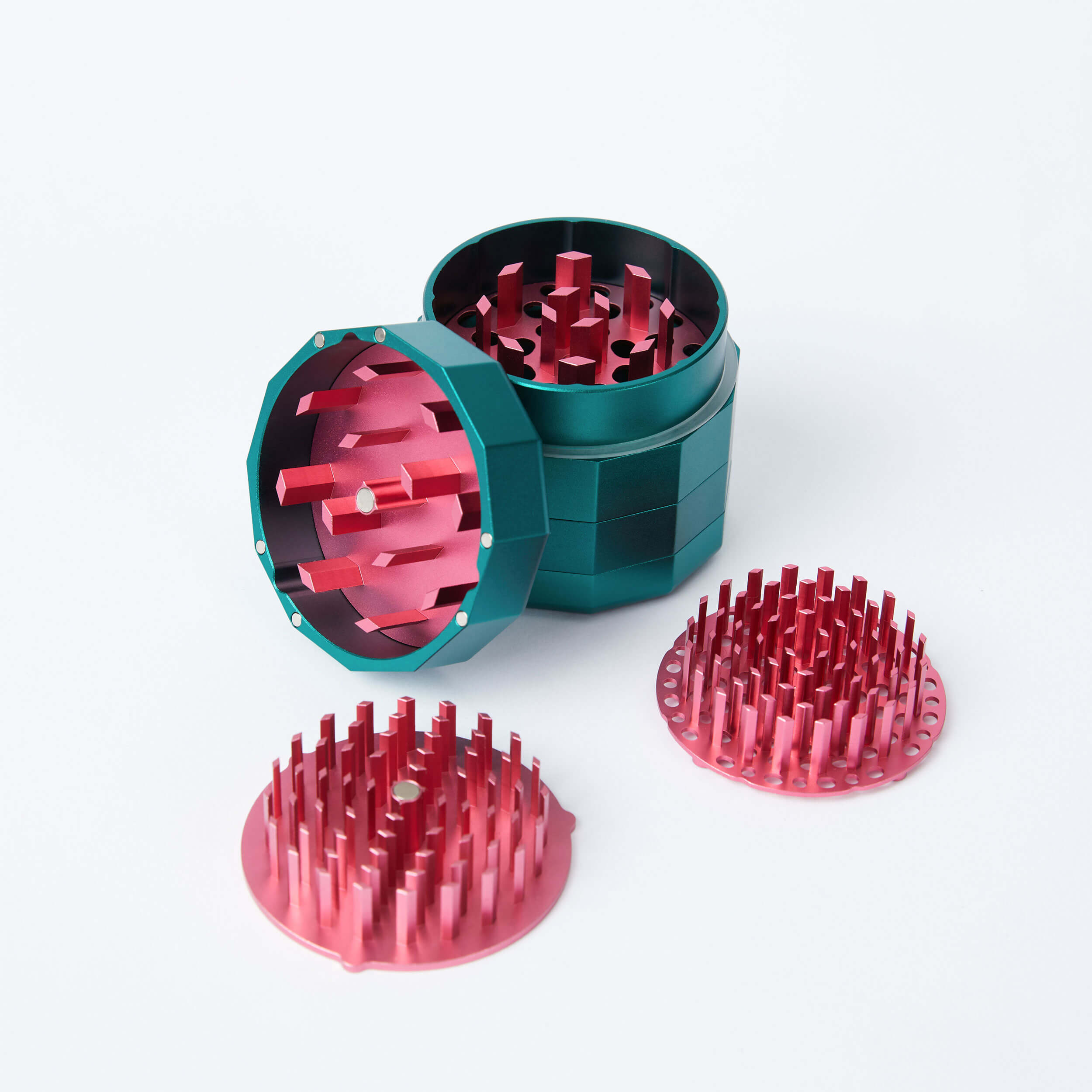 Easy Preparation, Better Elevation The Best Metal Herb Grinder for Marijuana
CAPU cannabis grinders are compact, efficient and simple to operate, giving you an easier prep time for elevation. They are available in a variety of styles to meet your taste and are the best tool for a stylish, quality and hassle-free elevation experience every time.
Enjoy flawless prep with an all-in-one, simple-to-use tool
Elevate wherever and wherever, with ultimate portability
Choose a design that reflects your style and vibe
Enjoy a lifetime of elevation with a long-lasting grinder

Breakthrough Technology
Our innovative, cutting-edge practical marijuana grinders make preparing cannabis for any event a breeze.

Simple-to-Use Tool
Our cutting-edge grinder features a 12-sided grip and two sets of teeth for optimal ease and functionality.

Lifetime Guarantee
Our grinders are made from aircraft-grade materials. They are made to last a lifetime of cannabis grinding.

Advanced Portability
Our metal grinders are small and portable, and you may store your cannabis in the portable compartment.

Stylish & Sophisticated
Use a grinder that is both functional and long-lasting, as well as one that matches your style and personality.

Efficiency & Utility
The CAPU metal grinder for marijuana set includes cleaning tools, pouches, boxes, and portable weed storage.
Get the best metal herb grinder right now
You need a dependable grinder constructed with cutting-edge technology if you want to simplify the way you prepare and consume marijuana. So optimize your elevation preparation with CAPU's beautifully-designed, functional, and high-end metal grinder for marijuana.